Florida House Distinguished Author & Artist Awards
2017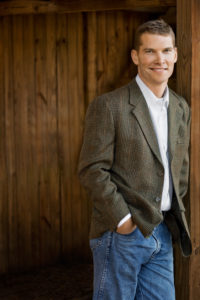 When you write a best-selling book and it becomes a major motion picture with two Oscar-nominated stars, some people say you are an overnight success.  Charles Martin has actually been thrilling us with his craft for years. He writes so eloquently about receiving rejection letter number 86 and having his wife Christy gently kiss him and say, "You are not a reject to me."  Thank goodness they kept going.  Eighteen years later his wonderful novel, "The Mountain Between Us" has brought national attention to what Floridians have known all along – Charles Martin is quite a distinguished author. Grounded in faith and family, he graduated from Florida State University and received a Master's of Arts degree in Journalism and a PhD in Communication from Regent University. After a short stint as an English professor and working in insurance, he turned to writing full time, helping to support his family by building docks and starting a pressure washing business.  He is the author of 12 books and a selection of stories about the writer he has become called "River Road."  He says the title comes from the place he grew up, the "hallowed ground along the St. Johns River" that holds a tender place in his heart.  His novels have been published in 17 languages.  In front of his name is the title, "New York Times Best Selling Author."
Archery is just one of his hobbies.  Along with learning guitar from his son, fishing, tae kwon do, working out and bow hunting.  Charles has been married to his wonderful wife Christy for 24 years and they live in Jacksonville with their three boys.
Previous Award Winners
2016
2015
2014
2013
2012
Gary R. Mormino, Ph.D., Author
E. 'Beanie' Backus, Artist *Deceased
2011
Niki and Clyde Butcher, Artists
Marjory Stoneman Douglas, Author *Deceased
2010
Christopher M. Still, Artist
Carlton W. Ward, Jr., Author
2009
2008
The Highwaymen, Artists
Florida Icon
2015 – Pete Clemons, Okeechobee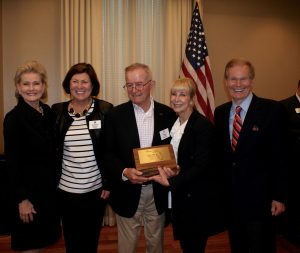 At the Spring, 2016 Board of Trustees meeting Okeechobee native Pete Clemons was recognized as a Florida Icon.  At 16 Pete became a professional rodeo athlete, putting himself through college with his winnings.  He is a 10-time Florida rodeo champion and won the Silver Spurs Rodeo All Around Champion award eight times.  The mascot for Osceola High School's Cowboys was based on a drawing of Pete as he went to compete in the National Jaycees Rodeo Championship in Colorado Springs.  He won the best all-around title.  At the age of 37 he retired from the rodeo to raise cattle on his Okeechobee ranch and run the Okeechobee Livestock Market.  In 2008 he was inducted into the Florida Agricultural Hall of Fame.  As one of the best known and beloved cowboys in our state, Florida House honors Pete with its first Florida Icon Award.
The 1845 Society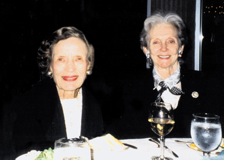 The 1845 Society honors and celebrates those who have shown extraordinary effort on behalf of Florida House.  This is the highest award Florida House bestows and it is not given on a regular basis.  The honoree is given the Louise Lykes Ferguson Medal, named after one of our founding Trustees and shown here with Founder Rhea Chiles.
Society Members:
2016      Grace and Bill Nelson
2013      Emilie and Clay Shaw
2011      Gus Stavros
2009     Eileen and Loyd Kelly
2008     Snead Davis
2007     Elizabeth Lindsay
2006     Sarah McKay
2004     Adele and Bob Graham
2003     Rhea Chiles
The Rhea Chiles Vision Award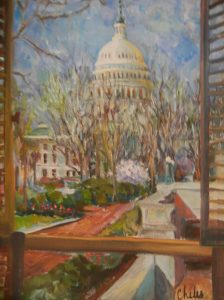 The Rhea Chiles Vision Award is given to a Floridian who has given extraordinary service to Florida House, its mission, vitality and stability; to someone whose involvement moved the organization toward expansion, soundness or increased stature.  Nominations are only accepted from Florida House trustees.
Vision Award Recipients:
Joyce Stevens
Ralph Marrinson
Pat and John Mica
Patrick Geraghty
Mike Hightower
Emilie and Clay Shaw
Patsy Woodroffe
Sandy Thomas
Deanna Kirchman
The Chairman's Award
Given by the Chairman of the Board of Trustees for exceptional service.
2014     The Risi Family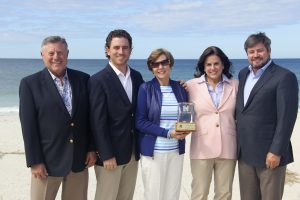 The Florida House Education Award
Recognizing outstanding achievement in education, a core value in the Florida House mission.
2014     Sarah McKay