They Called It LaFlorida
by Jackson Walker, presented by Florida House on Capitol Hill and the Juan Ponce de Leon Society.
The original painting is on loan to the Florida Department of State in Tallahassee and is on display in the Capitol.

 About the Painting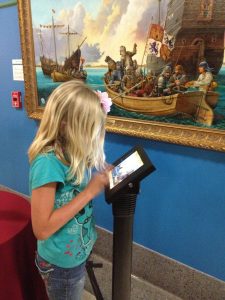 For over a year noted Florida history artist Jackson Walker researched, sketched and painted this detailed 3' x 5' oil on canvas work commemorating Juan Ponce de Leon's discovery of the coast of Florida.  The expedition sighted a shoreline on April 2 and a landing party of heavily armored men (and dogs) boarded boats, heading for shore.  They claimed the seemingly uninhabited land for Spain and named it "LaFlorida," not only for the Catholic observance of the "Feast of Flowers" but for the beautiful landscape.

Juan Ponce de Leon Society
Members of the Juan Ponce de Leon Society have made the acquisition and display of the painting possible through their generous contributions.  From Pensacola to Miami, for over three years the painting was displayed at museums and featured at many events.  It is now on indefinite loan to the Secretary of State's office in Tallahassee and hangs in the foyer of the Secretary's office.
Thank you to the Juan Ponce de Leon Society Members for making this gift possible.
Florida Blue
Belle & Lewis Bear
Andrew Blasi
Sandy & Vern Buchanan
Dominic Calabro
Jan Risi Field
Mimi & Bob Graham
Lorna Jean Hagstrom
Anne & Til Hazel
Sue & Mike Hightower
Bart Hudson
Ruth Kazeck
Irene & Gasper Lazzara
Martha & Ralph Marrinson
Sarah McKay
Patsy & Jim Woodroffe